KNOW THE MOYCOR FURNITURE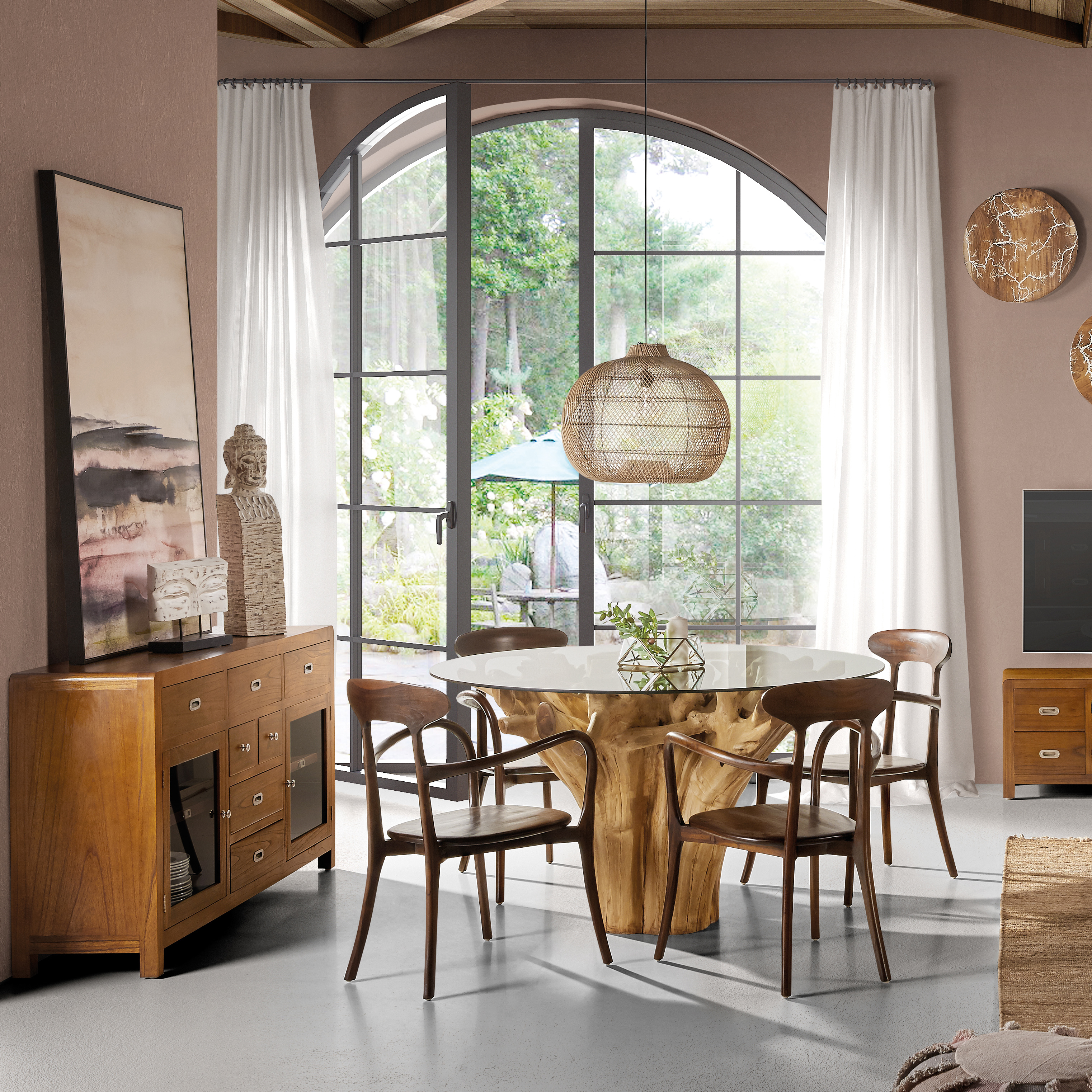 KNOW THE MOYCOR FURNITURE
Some features of our furniture may go unnoticed. That is why we have gathered some of the most relevant:
DOVETAIL:
A dovetail, also known as a swallowtail, is the cut at the end of a trapezoid-shaped piece of wood that joins together, so they fit snugly and cannot come off or move. This technique can be worked with machines. Nevertheless, all our furniture in which this technique is applied, wood has been carved and adjusted by hand.
CARVING:
This technique is present on many of our products, decorative articles, such as wooden sculptures, and in our furniture through small decorative wooden pieces that complement the item. All our products are crafted by hand in our factories in Indonesia, making them unique. They may vary between them, and no two are the same.
BRONZE HANDLES:
Many of our furniture have handles made of bronze and maintain the original color.
HAND BRAIDED RATTAN:
Rattan is a natural material, similar to wicker, with a thin and elastic stem. Many items with this material are present in our Rattan collection, where rattan plays an important role as it is braid by hand in chairs, armchairs, headboards, mirrors, and baskets.
FRACTAL WOOD BURNING TECHNIQUE:
This technique combines water with a large amount of electricity to "draw" the path of electricity on the wood. The result is very visual and unique.
WOOD GUIDES:
Maintaining fidelity to handcrafted furniture and paying great attention to detail, our products respect the system of wooden guides.
THE DRAWERS:
The drawers of our furniture are robust and made of solid wood. The drawer fronts are from the same wooden board, so the grains of the drawers are continuous with each other. Sides are about 2 cm thick, which allows them to hold more weight. They will never fall off because each of them has an adjustable stop.
NATURAL MATERIALS:
The materials used in our furniture are natural such as wood, rattan, bamboo, jute, onyx, marble, terracotta, roots, or fossils.
SECRET DRAWER:
Some of our furniture includes one or more secret drawers. These are small hidden drawers located behind a drawer. You can access it by pulling out the drawer.